Lots of Learning
December 2023 - Room on the Broom
Room on the Broom has been one of children's favourite stories in Nursery. They have loved joining in with the story's repetitive language, learning new words such as 'cauldron' and acting out the story using props and costumes. Children have also enjoyed mixing potions outside, cooking star biscuits and making their own spooky salt dough spiders!
November 2023 - Diwali
Children in Nursery have enjoyed learning about Diwali. They have had the opportunity to make clay diva lamps, creating Rangoli patterns and trying new foods such an vegetable samosas for snack. They also enjoyed listening to the story 'The Best Diwali Ever.'
October 2023 - The Colour Monster
Children in Nursery have LOVED reading the story 'The Colour Monster'. We have been having such fun making play dough with different colours to represent our feelings and chopping different coloured fruit for our fruit kebabs. The children have become experts at retelling the story using different props and have developed an excellent understanding of how the different colours represent different emotions.
October 2023 - Happy in our Skin
We have started reading children our first core book for the term 'Happy in our Skin'. With this story in mind, we have been creating loose part self portraits with children. Some children have also chosen to draw or paint their own self portrait!
September 2023 - First few weeks at Nursery
We have been amazed at how well our Nursery children have settled. They have quickly adapted to the routine and have been busy exploring their new setting and getting to know their key people.
July 2023 - Animal Ark
Animal Ark came to visit Nursery this week. Children were able to get up close to all the animals and stroke them. The larger animals; a donkey, sheep, pig and goats were firm favourites with the children and they also enjoyed the hands on experience with some of the smaller animals such as rabbits, guinea pigs and a tortoise.
July 2023 - Goodbye Butterflies!
Children in Nursery were very excited to finally release the butterflies after a few weeks of carefully observing them change from caterpillars to chrysalis'. The children waved goodbye as they fluttered high into the sky to find one of the many flowers growing in our Nursery garden to enjoy.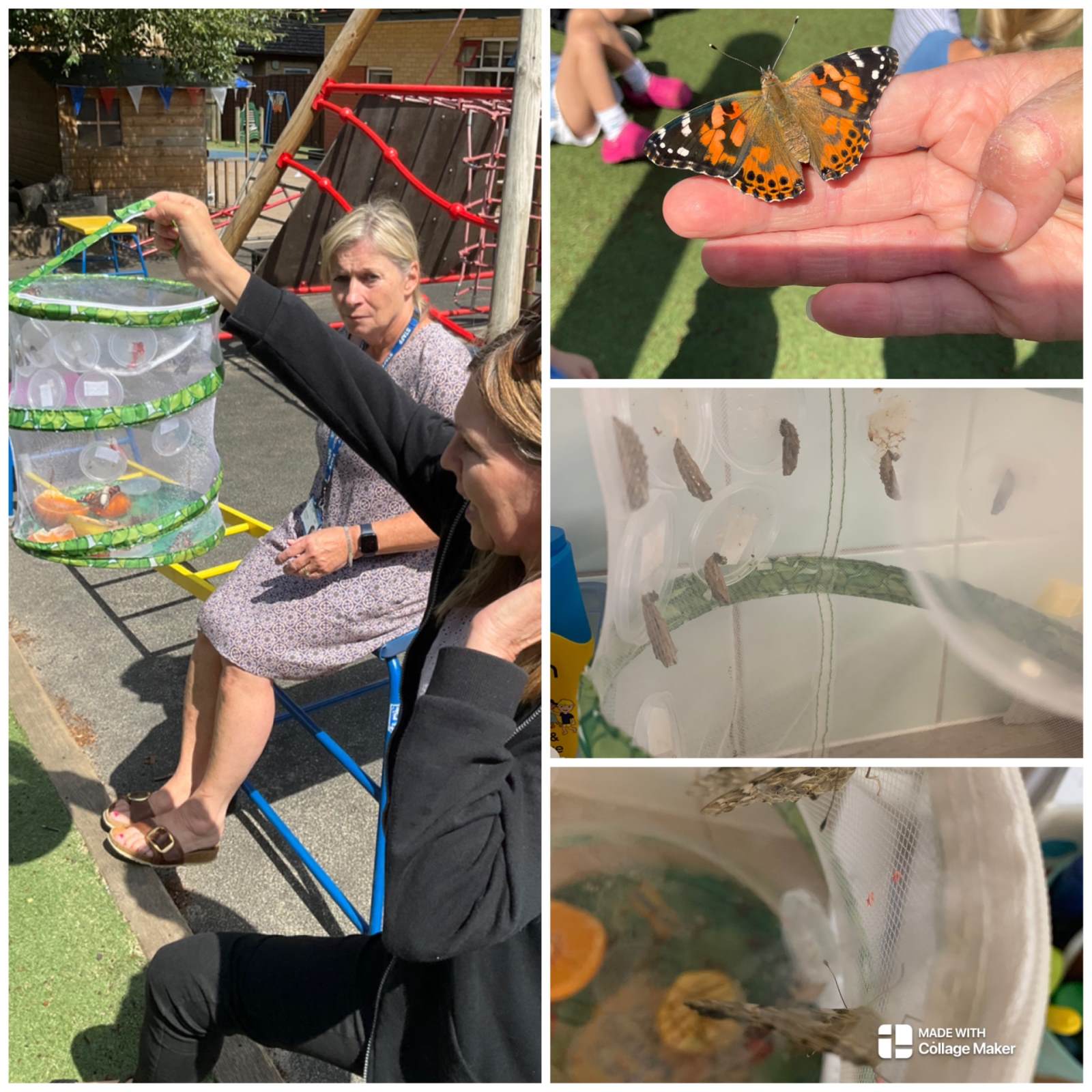 June 2023 - World Environment and World Ocean Days
Children in Nursery have been learning about how we can look after our environment. Our Forest School sessions have had a sustainability theme with the importance of recycling. Children learnt how to sort rubbish into different recycling bins using litter pickers. We have shared lots of stories with children on this theme and all children have painted 'The World' on a stone as a reminder of how we can help to save our planet Earth.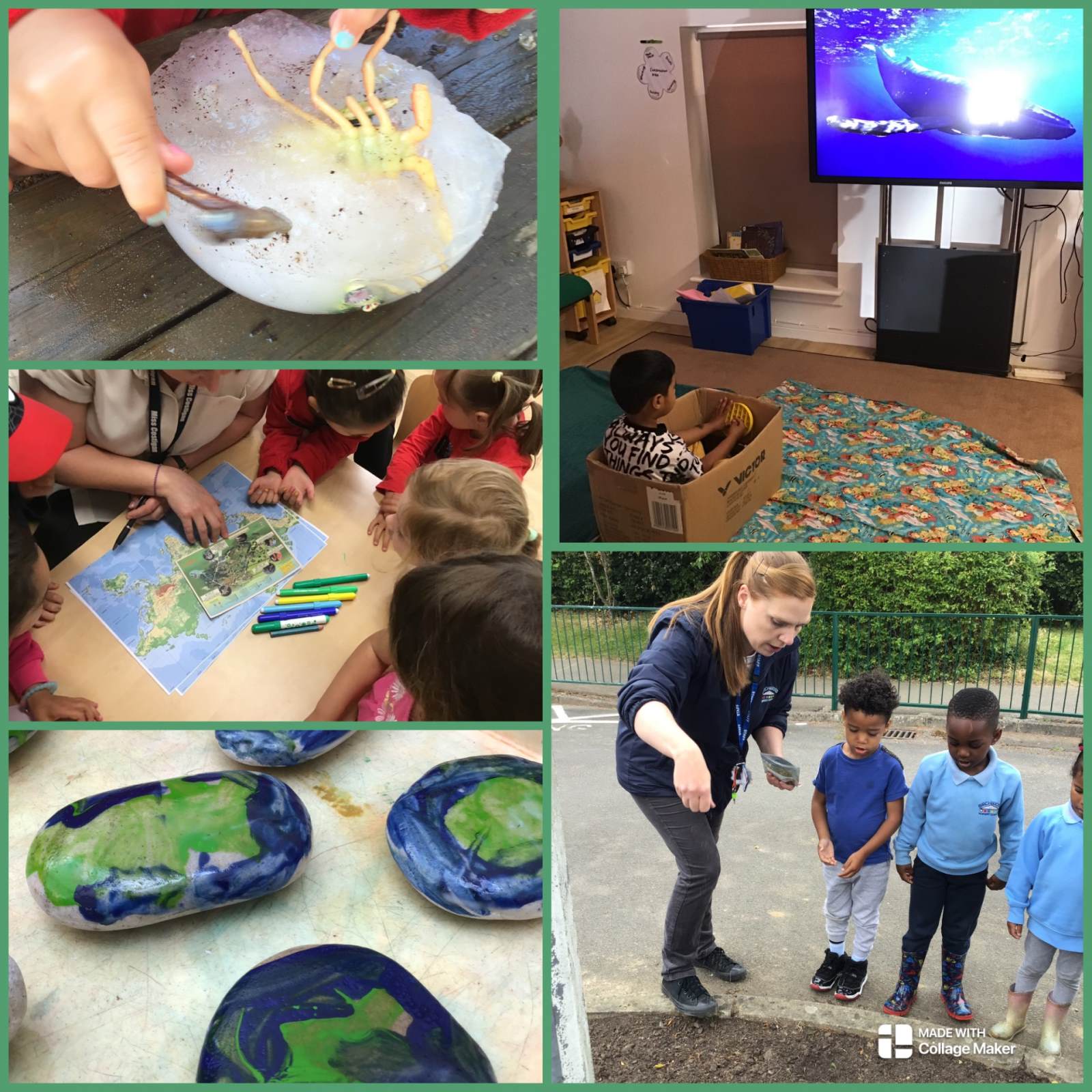 May 2023 - The King's Coronation
Children in Nursery celebrated the King's Coronation with a royal party this week. Children made their own crowns and enjoyed party games before enjoying their feast of sandwiches, cakes and strawberries. Children also made their own coronation quiches to mark the occasion, which included beans and tarragon.
April 2023 - Planting in Nursery
We have been busy planting in Nursery this week. After reading 'Jack and the Beanstalk' we decided to plant our own beans in the the hope that they will grow into beanstalks big enough to climb! We have also been hard at work weeding our flower beds and planting new plants and seeds.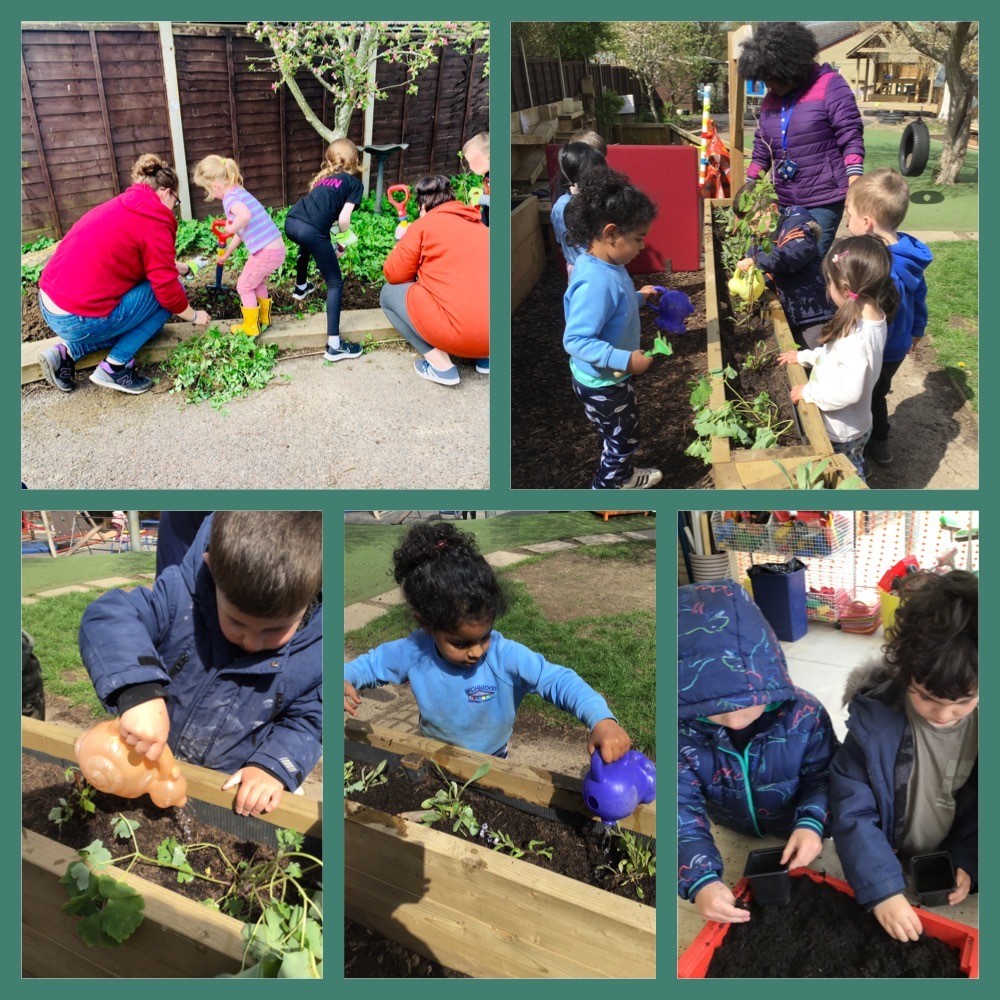 March 2023 - The Ducklings are here!
We are very excited to have 6 little ducklings in Nursery and Preschool. The children observed the duck eggs in the incubator before they hatched the next day. They are growing fast and already trying to escape from their cage and jump out! Children will be able to watch the ducklings grow over the coming week and learn how to take care of them.
March 2023 - Planting a Tree for the Queen's Jubilee
We very gifted two trees from Hertfordshire County Council to commemorate the late Queen's Platinum Jubilee. The children in Nursery were very helpful, digging the holes, planting and watering the new trees. We will make sure they are watered regularly! Please have a look at all of our hard work just as you enter the Nursery carpark.
https://queensgreencanopy.org/
March 2023 - Cooking
Our cooking sessions have been a real hit with children in Nursery. This week we made our own mini quiches and they were delicious! We talked about eggs and where they come from before learning to crack them into our bowls. We added vegetables and cheese before baking them in the oven. This was a lovely link to our core book 'Rosie's Walk' - all about a Hen who managed to avoid being eaten by a hungry fox!
February 2023 - Nite Owls
Following on from our core book 'Owl Babies', real life owls came to visit Nursery this week. Children loved meeting Whisper and Dotty the barn owls, Tango the scops owl and Monty the bengal eagle owl. They swooped over our heads and around the classroom, much to the children's fascination and delight!
February 2023 - Wellbeing Week
This week in Nursery we have been doing lots of activities around our wellbeing. Children really enjoyed our African drumming session. Alongside this, children particularly enjoyed taking part in yoga and making gingerbread people!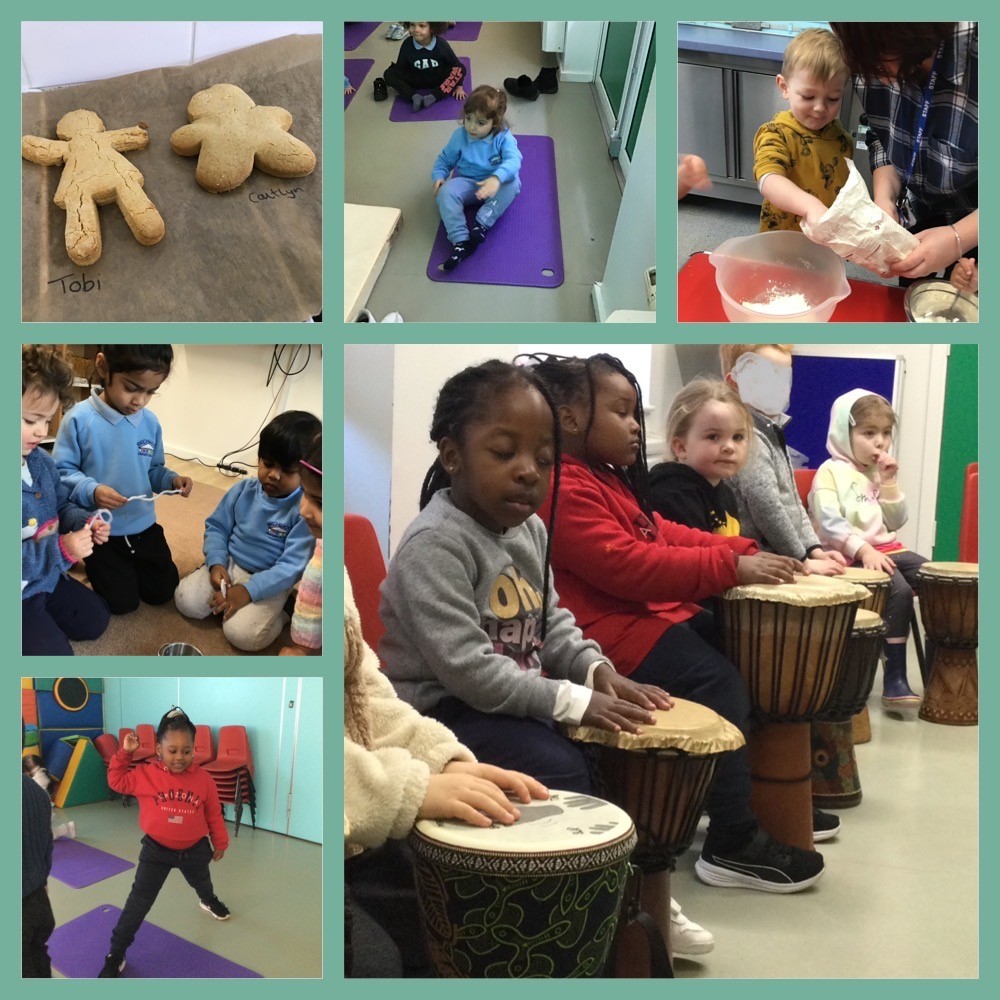 January 2023 - Lunar New Year
This week, children in Nursery have been getting involved in activities around The Lunar New Year. Snack time was very popular; with prawn crackers, rice noodles and sweet and sour sauce to try. Children learnt to make Chinese lanterns, have a go at mark making and enjoyed listening to the story of the Chinese Zodiac. Authentic clothes in our home corner were also very popular!
January 2023 - Baking Bread
Children in Nursery have loved making soda bread this week. They have carefully counted out the right number of spoons of flour and used their strong muscles to knead their bread. They were very excited to taste their creations and take the rest home to share with their families.
December 2022 - Winter fun in Nursery
With the rare snow flurry for this time of year, children in Nursery have been making the most of exploring the change in weather. They have loved making snow angels, using sleds down the hills and throwing the snow towards the sky, with great fascination!
November 2022 - World Nursery Rhyme Week
This year we took part in 'World Nursery Rhyme Week' in Nursery. Every day we learnt a new nursery rhyme and practised singing them throughout the week. Children were really engaged in learning the new songs and this led to lots of activities led by the children, such as; making their own fishing games, dressing up and pretending to be pirates and looking for treasure!
November 2022 - Children in Need
We raised a huge £566.67 for Children in Need in Nursery this year. Thank you to all those that filled their Smarties tubes with coins, took part in our 100 square competition and dressed for the occasion!
November 2022 - Remembrance
Children in Nursery have been learning about Remembrance Day. They watched a short video clip https://www.bbc.co.uk/iplayer/episode/b04p4zsl/poppies after talking to their key workers about the significance of poppies to help us remember. Children enjoyed drawing, painting and creating their own poppies for a display.
October 2022 - Diwali
Children have enjoyed learning about Diwali, the festival of lights. Some children chose to take part in activities such as; creating Rangoli patterns, making Diwali cards and dressing up in our home corner. Children also had the opportunity try new foods such as mango and naan bread during snack time.
October 2022 - Forest School
All the children in Nursery have now enjoyed their first Forest School experience. During the session the children were helped into their waterproof clothing and put on their own wellies. Once in our Forest School area, the children learned our new Forest school song and used sticks to drum rhythms on the tree stumps. We played Duck, Duck, Goose around the fire circle to help the children remember the rule, 'We don't go across the fire circle', and they demonstrated their kindness by ensuring everyone had a turn. The children went exploring around our Forest School area identifying red wool 'dangers' such as berries, prickly brambles and slippery tree stumps and learned the rule, 'No pick, no lick, no sick!' They also collected interesting natural materials, which they made into journey sticks after practising tying reef knots with cordage. We all enjoyed our warm juice and snack!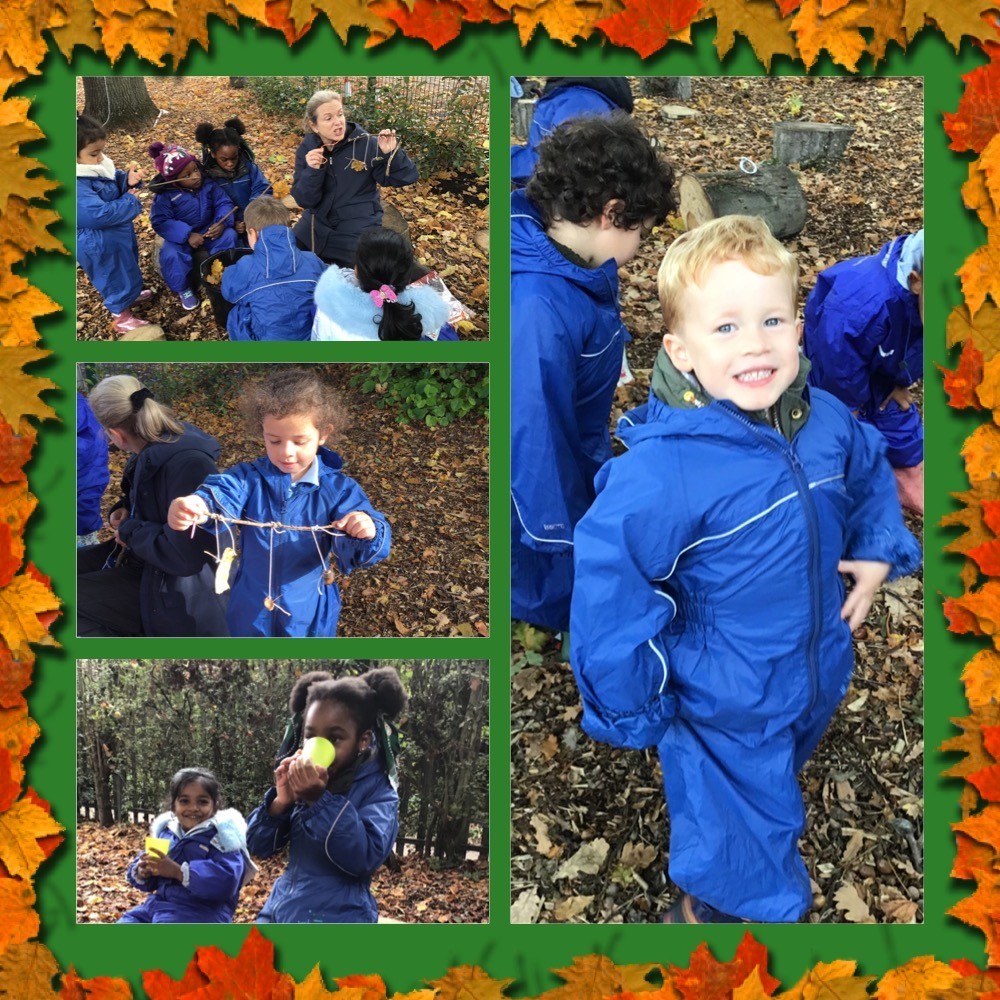 October 2022 - Making our Mark in Nursery
We have been reading the story 'Happy in our Skin' with the children in Nursery. The children have enjoyed creating self-portraits using loose parts and some children have even had a go at drawing themselves. This has developed into children's play through using chalk to draw around their bodies and then washing the chalky floor using water and paintbrushes.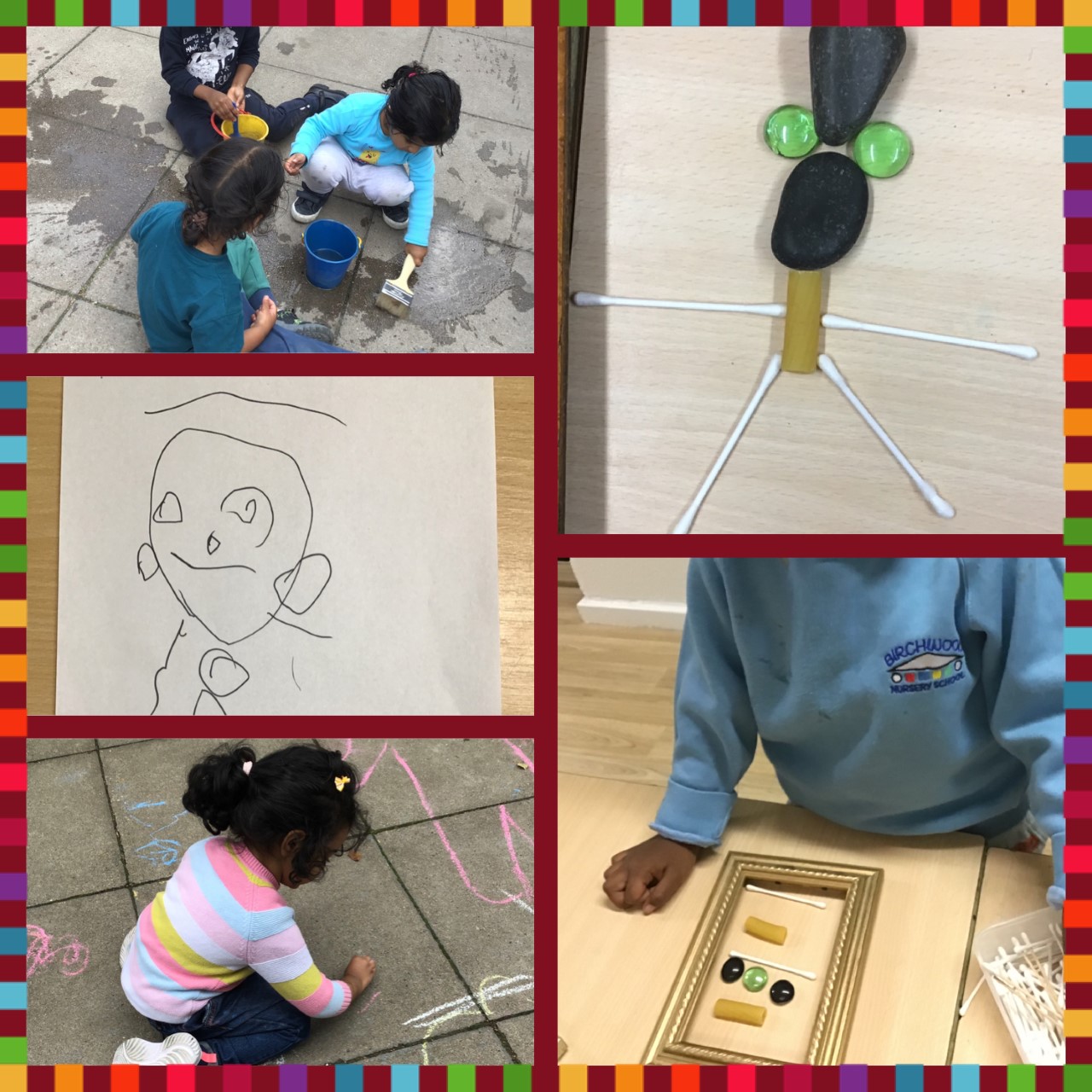 September 2022 - Welcome to our new children in Nursery
It has been such a delight to welcome all our children and families into the Nursery for this new academic year. The children have settled incredibly quickly into the new setting and have enjoyed having free flow across both classrooms, our sand and water room and outside space. Here are a few highlights of the last few weeks.