October 2023 - Preschool Animals
Our Pre-School pets - Mildred the Millipede, Turbo and Boost the giant African land snails, Sunny stick insects and Bijou the Tenrec.
Interacting with animals supports children's learning and development, and gives children the opportunity to learn how to be gentle and responsible for others.
Sensory Development
Pre-schoolers discover all about their world through seeing, hearing and touching. Stroking and interacting with animals at close proximity teaches children how various textures feel. The various animal noises will help children identify the animals' unique sounds.
Motor Skill Development
Motor skills are constantly being developed throughout a pre-schooler's life. Motor skills are simply anything that uses their muscles. Gross motor skills involve large movements such as running or climbing, and fine motor skills are small movements such as holding a brush to groom an animal, or using tweezers to feed them.
Language Development
Spending time with animals is great for learning lots of new words – like whiskers, snout and paws. Children will usually return home at the end of the day and chatter away to the family about the animals.
Empathy
Young children begin to develop the ability to understand and share the feelings of others, and this includes animals too! When a child is asked questions such as, "Do you think Bijou likes being stroked?" and "Do you think the snail is hungry?" these can help children to consider the animals' feelings.
September 2023 - We are Independent!
Independence is important because…
It promotes confidence and self-esteem as well as motivation and perseverance in school. It fosters self-reliance, allowing your child to feel they have control over their life.
Some of the most important attributes of independent learning include children being able to use the environment for themselves, to make choices and decisions and to start to develop their own thoughts and views.
Independence fosters one's ability to be self-reliant and self-sufficient, to be able to do what is necessary to create a fulfilling life for oneself and one's family.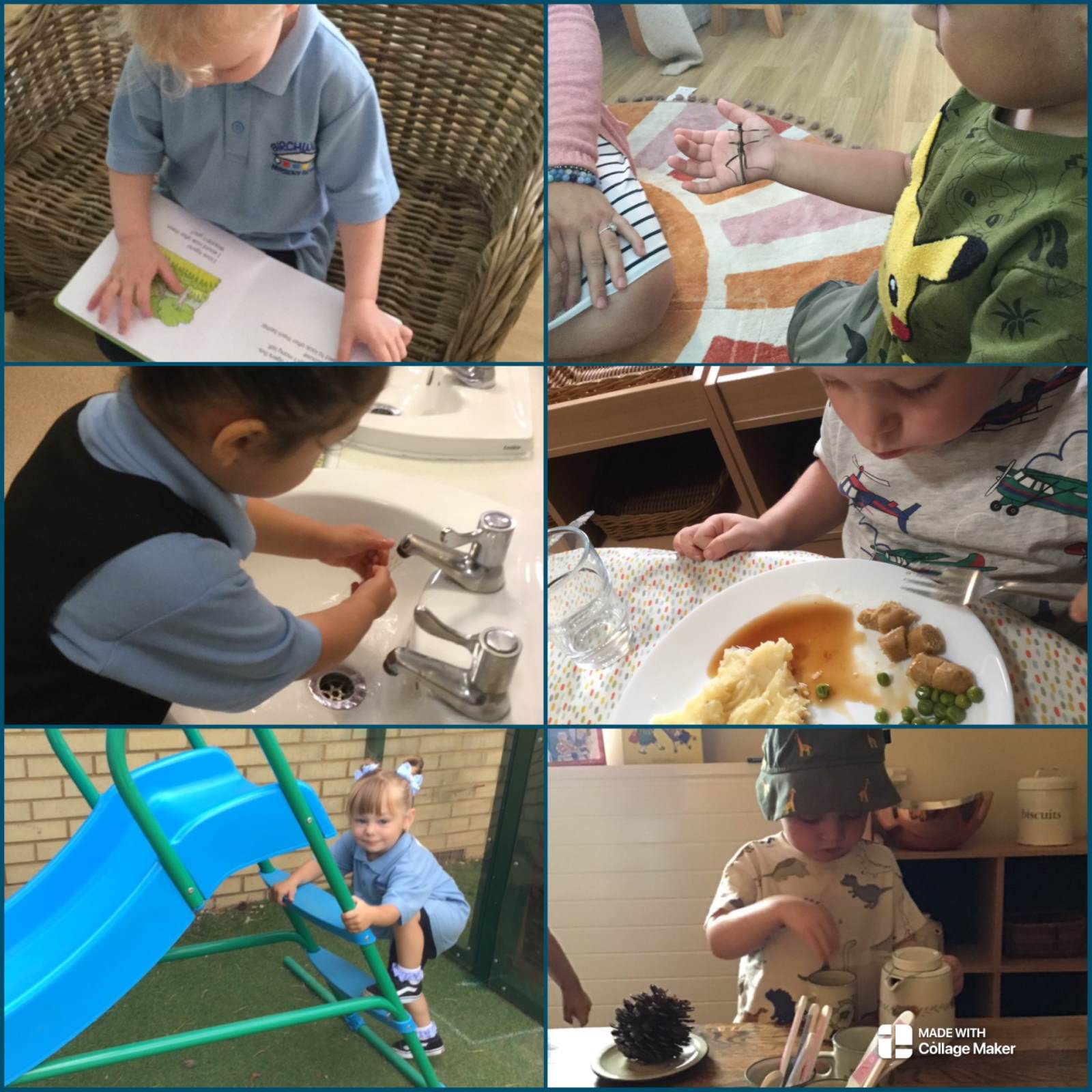 July 2023 - Yoga
Yoga in early years focuses on nurturing physical, mental, and emotional well-being through a holistic approach. It introduces children to mindfulness, breathing techniques, and gentle movements that promote flexibility, strength, and body awareness.
Yoga sessions for young children often incorporate storytelling, games, and interactive activities to engage their imagination and improve concentration. Through regular practice, children develop balance, coordination, and self-regulation skills.
Yoga also fosters a positive and inclusive environment, promoting social interactions and empathy. It lays a foundation for a healthy lifestyle, promoting lifelong habits of self-care, resilience, and inner peace.
June 2023 -Forest School in Preschool
The children have been introduced to Forest School and the Forest School rules.
We are learning to; put on waterproof clothing and wellington boots, remember the Forest School rules, know how to show someone we are listening, follow a simple rhythm or instruction, listen to sounds in nature, and wash and dry our own hands.
We have enjoyed playing group games, reading stories and having snack at Forest School.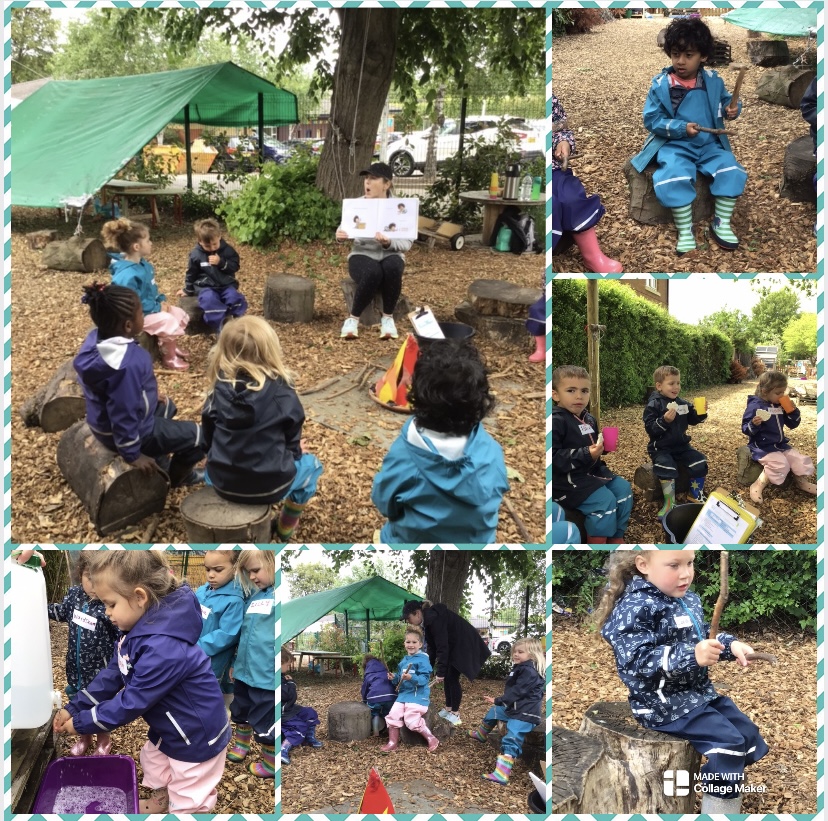 May 2023 - The King's Coronation
The pre-school children marked the Kings Coronation with a celebratory snack, crafty crown making, large block castle construction and some jewellery making.
April 2023 - Building work!
So much building work – destruction and construction taking place in and around our Nursery and Preschool!! The children have a growing interest in construction with a range of resources. Their building skills are developing as they explore and learn to create 2 dimensional and 3 dimensional constructions. Learning through Block Play occurs across all seven areas of learning including, language and new vocabulary, mathematical language and shape, space and measure along side gross and fine motor development.
March 2023 - Block Play
What are the benefits of block play?
When your children are given the opportunity to play with blocks, they will develop mathematical and scientific skills like classifying and sorting, problem solving and number and measurement concepts. Block play will also develop your children's gross and fine motor skills.
Other developmental benefits you will observe include the development of your children's oral language as they negotiate and talk about the structures they have built. Block play has also been linked to an increase in creativity, imagination, self-esteem, and social and emotional growth too.
What strategy will help children progress through the stages of block play?
That's easy!! All you need to do is give your children lots of time and opportunities to play with blocks. If your children have access to blocks and the time to explore them independently, they will naturally progress through these stages.
Froebel Stages of Block Play
When Friedrich Froebel (1782-1852) gave his cousin a set of wooden blocks for her two young sons as a present and asked her to observe how they played with them, he gave us two gifts in one – a practical resource designed for children's learning and free play AND an invitation to observe and reflect on our practice.
February 2023 - Literacy
At Birchwood Pre-School and Nursery,
Children will have a love of books and use this knowledge to retell familiar stories.
Our children will be able to:
Enjoy listening to a range of different songs, rhymes and stories.
Select books independently for pleasure.
Develop their listening and attention skills.
Use knowledge of familiar stories in their play.
We will...
Provide children with a rich and diverse range of different stories.
Read to children both as part of a story time session and during their independent play.
Ensure that children have access to our school library and get to select books they can share with their adults at home.
Sing songs and rhymes with children throughout the day to support children's language skills.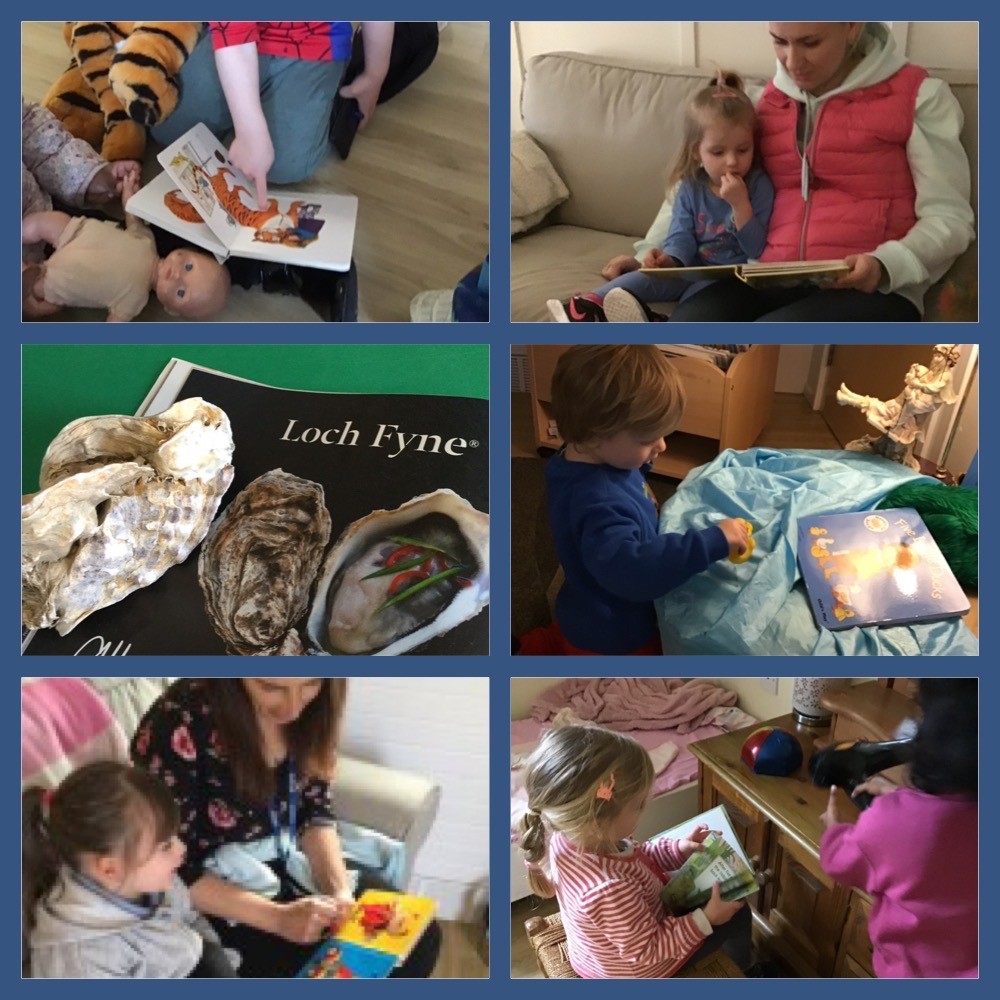 January 2023 - Loose Parts
"When children interact with loose parts, they enter a world of "what if" that promotes the type of thinking that leads to problem solving and theoretical reasoning. Loose parts enhance children's ability to think imaginatively and see solutions, and they bring a sense of adventure and excitement to children's play".
(Dale and Beloglovsky)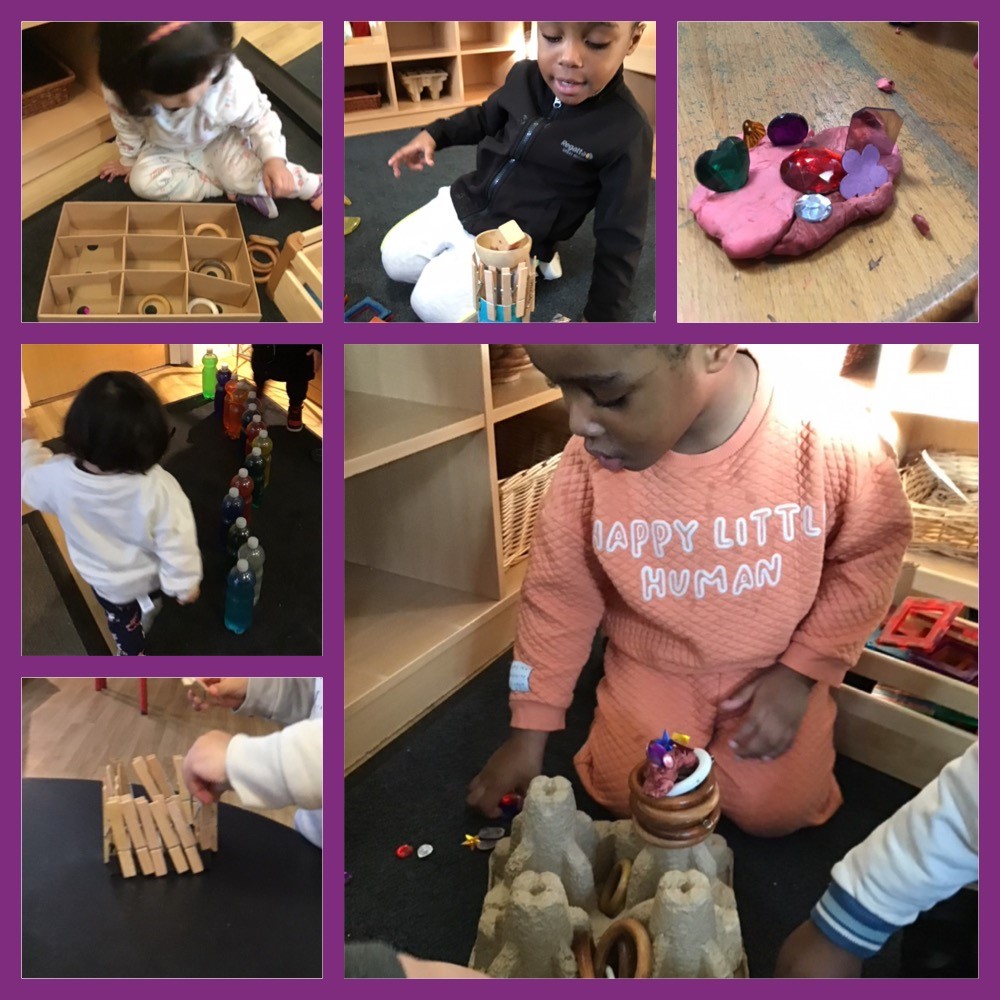 December 2022 - Seasons Greetings
In Preschool we are observing the change in season through a range of resources and physical changes in the weather. Neighbourhoods, streets and houses twinkle with light. The early morning frost sparkles across the garden. We encase Christmas trees with a magical glow, fairy lights twinkle and the streets and houses are adorned with sparkly colours and festive cheer. As we work towards The Curiosity Approach, instead of getting drawn into the tradition of a conveyor belt of 'crafts and activities' at this time of year, we look instead to experiences that are intrinsic to the child. That bring magical moments into their play space and play. The children have enjoyed exploring a range of materials to explore a transient art activity.
November 2022 - Vege Soup
This story begins outdoors… the children are role-playing.
An adult seizes the moment to support this learning opportunity. She wonders what they are doing? She commentates on their actions and she builds on what the children already know as she follows their lead. The story unfolds and the children talk about what they are going to buy at the shop. They pretend to buy potatoes, peel them and then put them in the oven.
Later in the week vegetables are purchased and the children are introduced to the real vegetable peelers. This task supports the development of gross and fine motor skills, dexterity, hand-eye coordination and crossing the mid-line. The children skilfully peeled and chopped carrots, parsnip, onion and potatoes.
As a result of such hard work we were able to make vegetable soup which was extremely popular at snack time with some fresh crusty bread from Simmons! 😊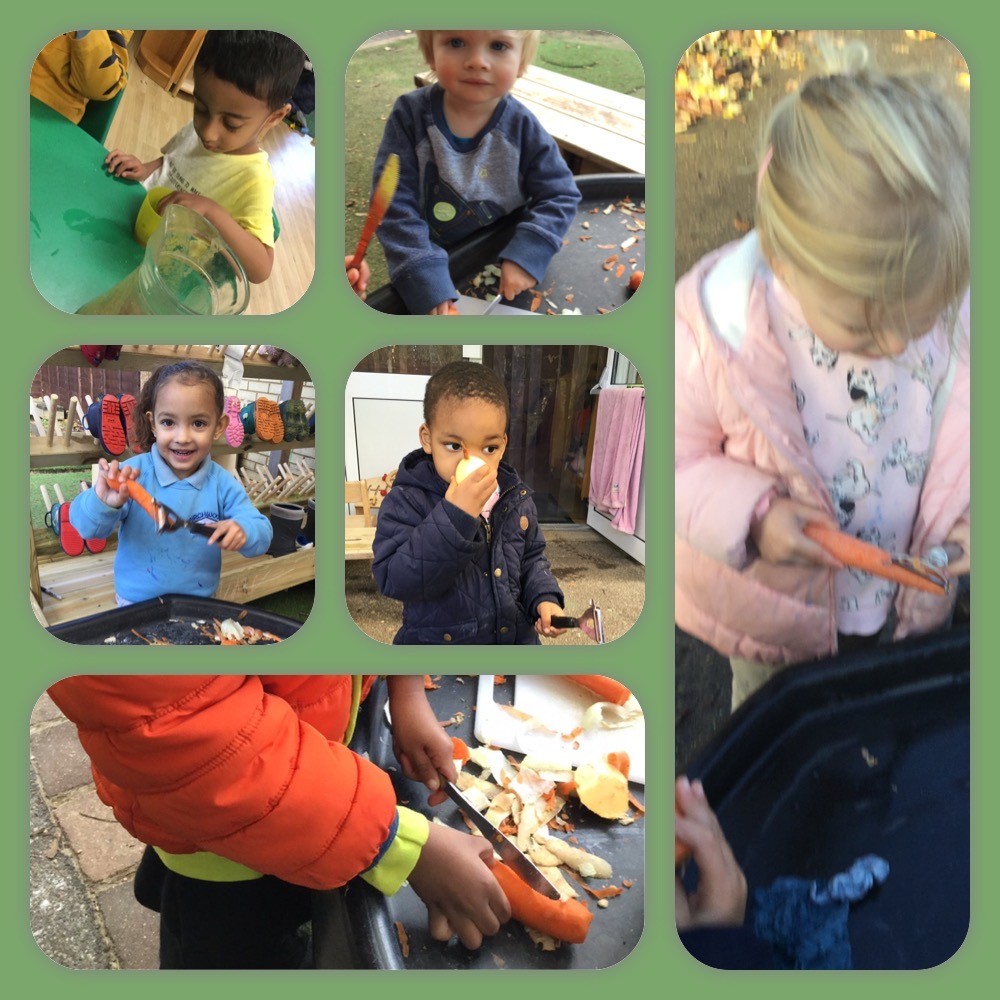 October 2022 - Light and Shadows
Look at our CURIOUS little learners, exploring shadows on the wall. Light & shadows form a huge part of our Curiosity Approach setting.
Light is a source of ever-changing wonder for children. Simple moments exploring light can grow into explorations in science, creativity and language.
At very young ages children begin to realize that light can change and make shadows. They love to explore the wonder of light reflections & shadows in our nurseries.
Our passionate staff help the children to hand pick thought provoking materials to explore, providing inspirational explorations in light.
Magical times ⭐️
September 2022 - Emergent Writers
Children in Preschool have been busy beginning their journey towards writing by making simple marks. Mark making is so much more than just a scribble! It is the first step in your child's journey to writing and is so very important for their development in handwriting, creativity and coordination.